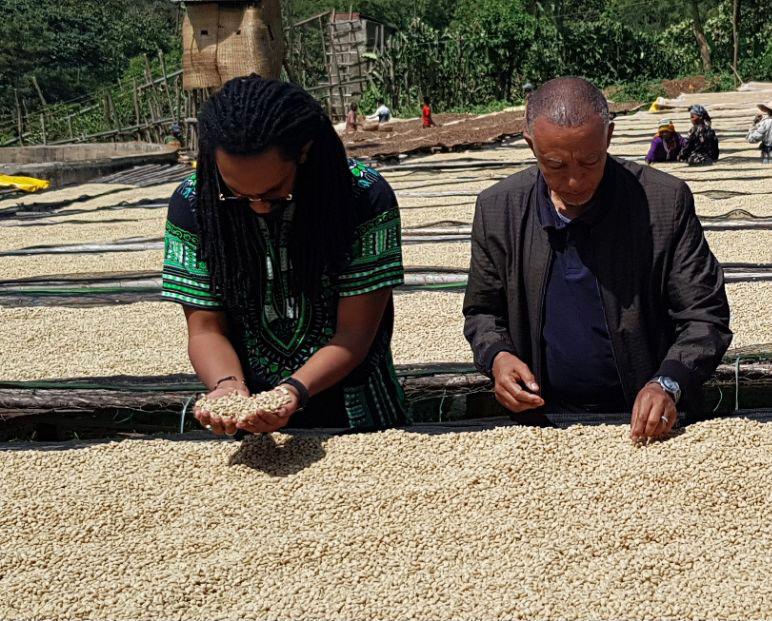 Details
Region: Southern Nations, Nationalities, and People's Region (SNNPR)
Zone: Gedeo
Woreda: Dilazuria
Kebele: Gola
Altitude: 1,800 – 2,200 meters above sea level
Owner: Cabey
Process: Washed
Varietal: Ethiopian Heirloom
Screen Size: 14+
Bag Weight: 60kg
Grain Pro: of course!
Cupping Notes
Aroma: Fruity, floral and hints of ginger
Flavor: Sweet ginger and chocolate
Body: Medium
Acidity: Mild
Certifications: N/A
About Hussein Mohammed Washing Station
 Our families journey into coffee
Cabey PLC was originally established in 1997 by Saeed Al Amoudi as strictly a coffee exporter. That is – buying parchment (coffee with the cherry skin removed, but still unhulled), hulling the coffee, and exporting unroasted green beans.
What began as exporting only 1-2 containers of coffee a year, has now grown to nearly 750+. Through his hardwork and passion for coffee, Saeed has been able to provide for not only his family, but the local community in which he lives.
His two son's, Hussein & Mohammed Seid Al Amoudi, have been working under their father for several years, learning the ropes of running a succesful coffee exporting business. In 2019, Mohammed stepped into a leadership role at Cabey, and the timing couldn't have been more perfect.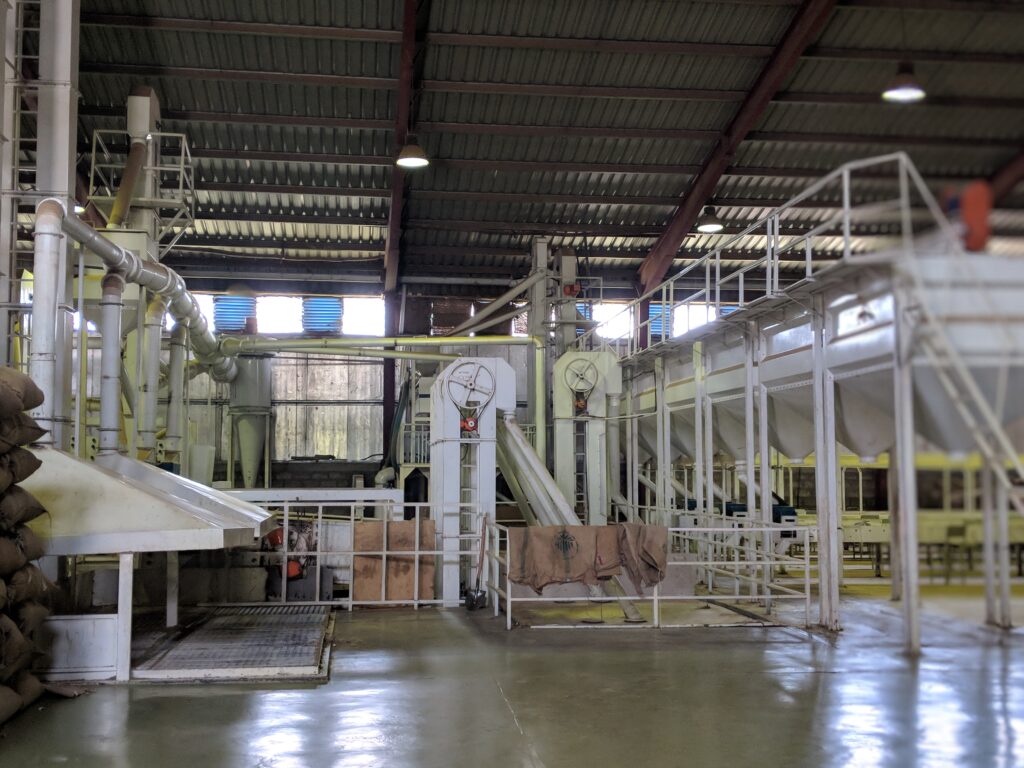 From coffee exporter to cherry processor
In 2017 the Ethiopian government passed a new proclamation which allowed private washing station owners (the primary processors of coffee cherries into parchment) to sell their parchment directly to interational buyers instead of being forced to sell through Ethiopian Commodity Exchange (ECX).
Mohammed Seid immediately saw an opportunity to establish a traceable Cabey coffee and sought out to purchase a washing station. "I knew the specialty coffee market was in it's early stages in Ethiopia in regards to traceability, but given the growing  number of international consumers demanding this information, the government finally decided to act" Mohammed explains, "the quality of Ethiopian coffee is like none other, and now we can work directly with international buyers who appreciate & help us improve on what we do."
Wanting to only sell the best, traceable coffee, he knew he needed to be in Gedeo Zone – home of the famous Yirgacheffe. Anyone who knows specialty coffee knows of Yirgacheffe as this type of coffee offers some of the finest and most developed flavour profiles Ethiopia has to offer.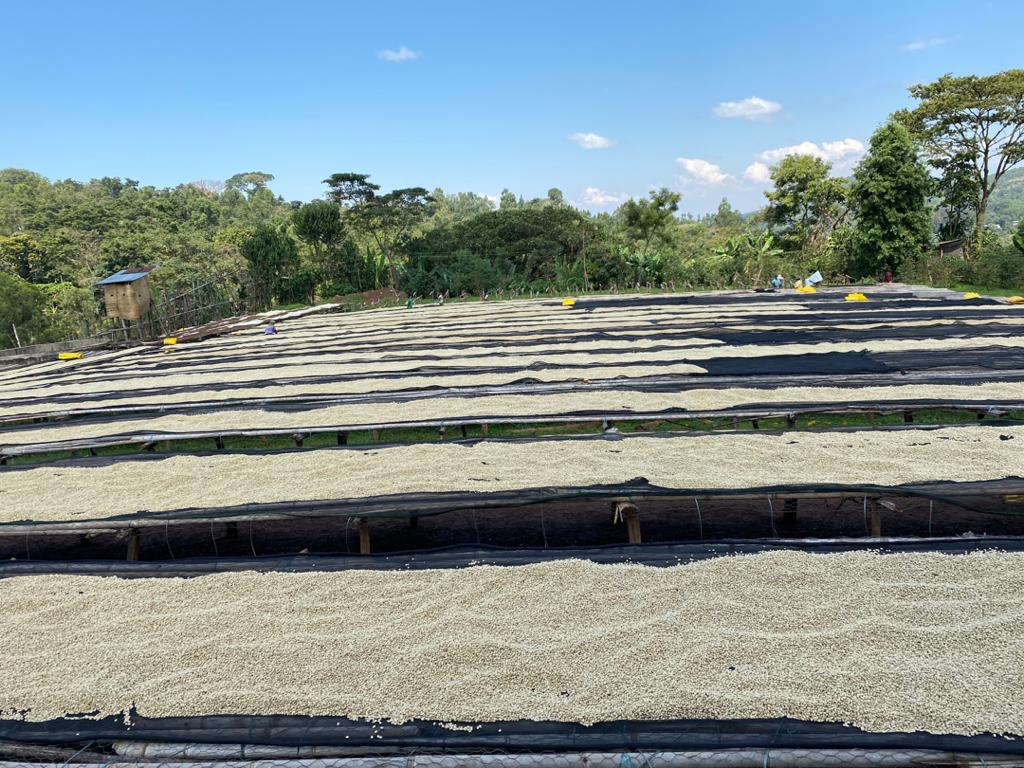 Cabey purchases it's first wet mill
After patiently waiting for several years for the perfect washing station to come available, Mohammed made his move in July 2020 and purchased a washing station located in the Gedeo Zone, in the Dilazuria Woreda, within the Gola kebele (think of kebele like neighborhood). Named after both brothers, the Hussein Mohammed washing station opened for business just in time for the 2020/2021 crop year.
Processing at Hussein Mohammed
The cherries are collected between October until the beginning of December and immediately brought to the washing station. We usually send out a truck once a week during the peak harvest season to pickup cherries from locals who would otherwise have to travel far distances to reach our mill.
Since we currently only produce washed coffees, the cherries are inspected and sorted before being placed into fermentation tanks. Here they sit for 36 hours while the mucileage (cherry skin) is broken down by natural enzymes, before easily being rinsed away. The beans are then placed on elevated drying beds where they will dry for 9-15 days. Yellow tarps are used to cover the bean from periods of strong sunlight and or rain.
Mohammed works with over 100 smallholders within the Gola kebele that deliver their cherries to the washing station. Coffee farmers in Gola, like the majority of those in this region of Ethiopia, grow their coffee on small 1-2 ha plots along with other cash-crops including enset (false banana) and corn.
Educating these farmers on picking and promptly delivering mature cherries is one of Cabey's main challenges at the washing station. Farmers will often bring a mixture of ripe and unripe cherries to the mill, which is why we have our export manager Mengistu, spend time educating the farmers we work with on how to identify the ripeness of each cherry.
Farmers who are able to consistently deliver high-quality cherries earn a premium for their work. Previously these farmers would have had to accept below market rates from local coffee traders. These private players would drive around in vehicles and lowball farmers for their cherries which they would eventually resell to the washing stations.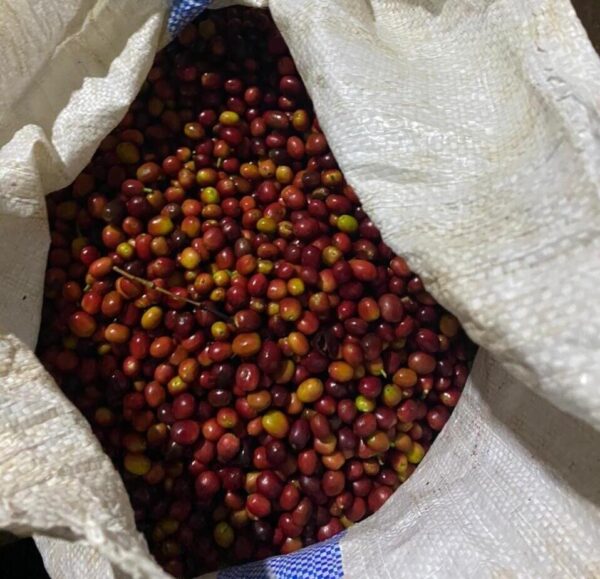 Exporting through Cabey PLC
After the coffee is washed and slow-dried at the HM washing station, it is sent off to our warehouse in Addis Ababa as parchment. Here it will be prepped for export by being cleaned, sorted and hulled (removal of the parchment layer) before being bagged and sent across the globe!
We own our own trucks, warehouse and processing facility (including the machinery) meaning we are in control of every step. This makes it easy for us to maintain our high-quality standards, ensuring those abundant fruity Yirgacheffee flavours make it safely to your cup!