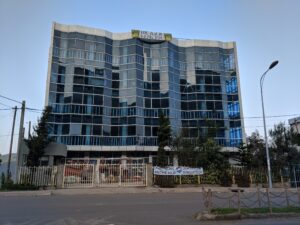 Cabey Café is actively involved with economic development in Ethiopia, outside of just purchasing coffee. The founders, being Ethiopian, have invested in numerous business ventures in the country, spurring employment and helping increase the standard of living for many Ethiopians.
The most recent project Cabey Café has completed can be found in Dessie – a town North of Addis in the Wollo region. There you will find a newly-constructed 48,000 sq.ft mixed-used office building, with arguably the best quality of construction in the area. The location was chosen for sentimental reasons – with this being the town from which the founder's parents are from. The idea to build a mixed-use office came about from the lack of quality institutional space for education in the town. One had to look no further than the school across the street, which barely had electricity or a single desk that wasn't falling apart, for an example of the poor environments these students had for their education. Additionally, the family which owns Cabey's group of companies can attribute their success to the academic-first mindset passed down from generations. Understanding that Education will break the cycle and will help our fellow Ethiopians escape poverty.
Once the decision was made to move ahead with the idea, construction began in 2016 on land which was owned by the grandparents of one of the founders. Two years later with a lot of hard work and help from the locals, the building was completed in its entirety. Dream College, an institution dedicated to the post-secondary education of Ethiopians commenced its occupancy in August of 2018, with their first school year beginning in September of that year. They currently offer diploma-level programs including diploma's in Accounting, Nursing, Business, Pharmaceuticals and more. Not even a full year later, the college has over 800 kids enrolled with that number climbing by the semester. They are hopeful to offer undergraduate degree's soon, with their application to become accredited now under review.
Cabey Café will continue to pursue real estate developments such as this one, with the hopes of improving the learning environments of Ethiopian Students and making education more accessible for all. Check out photos of the college below, with pictures of the construction process included.